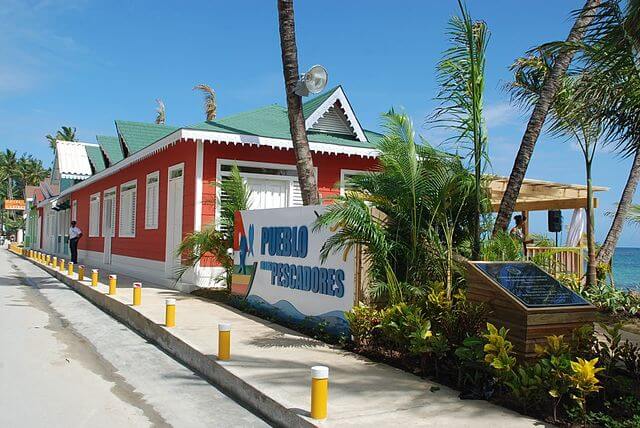 La Yuca Caliente In Downtown Las Terrenas
La Yuca Caliente is one of my favorite restaurants in a town full of amazing restaurants. The La Yuca Caliente is a "must go to" restaurant when I am in Las Terrenas. The food is always prepared perfectly with a wide selection, they have one of the best views in Las Terrenas, the staff is friendly and helpful, it is centrally located and is comparatively priced.

The Food Of La Yuca Caliente
The dishes are most often prepared in an Italian or Dominican style – with many of the dishe's main ingredients being either seafood or fish. The menu is extensive and so far, everything I have ordered has been prepared perfectly.
From the wood fire oven they prepare some of the best thin crust pizzas I have eaten in a long time. My two favorites are the margarita (tomato/garlic) and the napolitano (anchovies).  Their paella, ceviche, and calamari are prepared so well I think we order at least 2 of those items every time we go there. Their risotto and seafood pasta are rich and delicious as well.  You can order the fish prepared any way you would like it, but to me it is best served Dominican style – whole and fried with a side of fried plantains (fritos).
La Yuca Caliente has a diverse selection of wines from Italy, Chile, Argentina and many other locations. With their extensive wine selection, I am sure you won't have trouble finding just the right wine to accompany your dinner.
Santo Domingo Airport Transportation – Rated #1 by TripAdvisor
Safe, Secure, Comfortable & English-Speaking Transfers

The Ambience of La Yuca Caliente
Part of the experience of eating at La Yuca Caliente is the fact that the restaurant is located right on the water. From the incredible view you have during the day you can see from the point of Playa Punta Popy all the way the Hotel Alisei. Then at night under the moonlight you can see the waves glisten and hear them softly breaking in the background. Both day and night have their unique qualities, and, when I am there at night, I think that is the best time to go, but then my rationale is quickly challenged the next time when I return during the day and then think this is the best time to visit La Yuca Caliente.

Location in Las Terrenas
La Yuca Caliente is located in the central part of Las Terrenas on the street 27 de Febrero just a half block west of Calle Duarte – the main road that brings you in to the downtown. From most hotels, condos and houses, it is a very convenient place to get to by walking either from the street side or, how I prefer to arrive, by walking down the beach. I have made a rudimentary map that you may click on to enlarge.
Cost of La Yuca Caliente
The cost is not outrageous, but you need to keep in mind that while there are many very inexpensive things in the Dominican Republic, quality food is not one of them. The average main course will cost you $15 to $25 USD if it is fish-based with the pizzas and many of the pastas being less expensive. Appetizers such as such as ceviche or calamari are usually around $10 -$12 USD. Beers are about $3.50 USD per bottle and wine prices vary depending on the bottle.
Considering your meal will consist of fantastic food, on a fantastic beach, with a fantastic view, in a fantastic Caribbean city, I consider these prices to be very conservative and well worth every peso, euro or dollar spent.